Cosmetic Tattoo
Cosmetic Tattooing also known as "Permanent Make up" is simply a cosmetic makeup that won't run, smudge or wash away. You can shower, swim, play sport and even perspire on a hot day without losing your perfectly applied enhancements.
Cosmetic Tattooing enhances and improves your appearance by adding definition and/or correcting the shape of facial features same as when you use the traditional make up like your eyebrow pencil, eyeliner, lip liner and lipstick.
Using the finest quality needles, and sophisticated equipment a specially formulated coloured pigment is implanted into the dermal layer of the skin, achieving beautiful, natural looking results.
All needles and machine attachments are single-use and disposable. Procedures are performed in Health Department approved rooms with every precaution taken for the client and the technician.
If you suffer from any of the following problems, then Cosmetic Tattooing may be your solution:
Poor vision or just can't see well enough to apply make-up
You wear contact lenses or have eyes that are sensitive to eye make-up
You have naturally thin, sparse or non-existent eyebrows or eyelashes
Suffering from hair loss caused by Alopecia, Chemotherapy or Trichotillomania
If you have thin, uneven or faded lip border or scars due to Cleft lip surgery or simply due to ageing process
If you suffer from excessive perspiration or have oily skin.
Our Cosmetic Tattooing Specialist
A Nationally Acredited Trainer & Practitioner with over 25 years experience. You're in safe hands with Janette. Member and Trainer of the Aesthetics Practitioners Advisory Network, Association of Professional Aestheticians of Australia and the Association of Cosmetic Tattoo Inc.
Janette's professional learning includes:
– A Diploma of Nursing
– A Diploma of Beauty Therapy
– A Diploma of Makeup
– A Diploma of Permanent Makeup
– A Diploma of Micro pigmentation and Cosmetic Tattoo
– A Diploma of Advanced Permanent Makeup
– A Diploma of Camouflage, Areola and Scar Relaxation
– Diploma Certificate 4 in Training & Assessment
– Class 4 Laser Certificate
– Nationally Accredited Trainer and Practitioner
Recommended by medical practitioners, cosmetic and laser surgeons.
Call 07 3207 4100 today to book a
FREE CONSULTATION and see for yourself what Cosmetic Tattoo can do for you.
Eyebrows
Eyebrows shaded from $550
Hairstrokes & Ombre – $650
Not everyone will need the Cosmetic Tattooing procedure done on their eyebrows, but for anyone who has been living with the headache of having to pencil in their eyebrows every single day, this procedure is a welcomed relief. Imagine the time you will save let alone the confidence you will feel knowing that no matter what you do, your eyebrows will be there, perfectly applied in a flattering shape and colour, day and night. Poor eyesight, gaps, scars, missing ends or just over plucked into a horrific shape, no matter what the reason, if your brows need help, then Permanent Make up for eyebrows is the answer.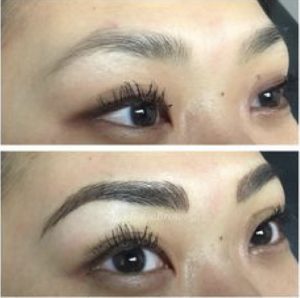 Eye Liner
Eyeliner Top – $390
Eyeliner bottom – $370

Every woman knows that well applied eyeliner will accentuate the eyes, making lashes look darker and thicker and giving your eyes that certain sparkle. However, applying your own eyeliner is difficult and time consuming, and if you need glasses to see, an almost impossible mission to accomplish! With Cosmetic Tattoo, your eyeliner is applied in the colour and style you choose. From soft and natural to a more glamorous look, whatever the choice, one thing is for certain… you can throw out your pencils and liquid liners forever!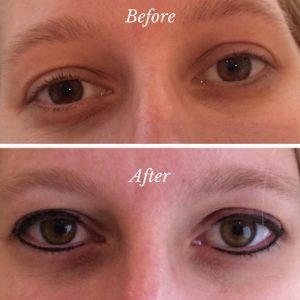 Lips
Full lip, Line & Lip Blush – $880
Dental block available by registered Doctor.
A Lip liner, Lip blend or Full lip Cosmetic Tattoo procedure is the perfect way to enhance the shape and colour of lips and looks fantastic with or without lipstick. It is the perfect solution for anyone wanting fuller, youthful, more symmetrical lips. Pale lip colour, blurred lip line or scaring can all be corrected so you can confidently drink, eat and… Kiss… knowing that your lips look perfect.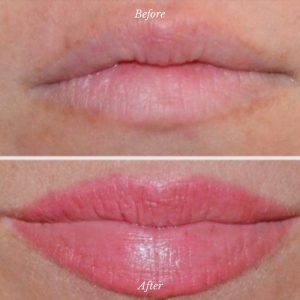 Areola and Nipple
Camouflage Areola creation & scar reduction $ P.O.A
Retouches $ P.O.A
If you have had a breast reconstruction I can help restore what surgery took away or enhance the areola from fading due to age. After invasive surgery, often the last thing you want to consider or think about is more reconstructive work on that area. It is likely your surgeon has made a nipple for you at the time of your breast reconstruction. Approximately six to eight weeks post surgery or when fully healed, you do have the option of areola micro-pigmentation, with natural colours especially formulated for this work. Many patients often choose the 3D tattooing, as it's so natural.